[China Instrument Network Instrumentation Enterprise] Recently, "Huokei-Yupei Smart Factory Construction Project" was successfully signed, and Mr. Bian Baoli, Chairman and General Manager of Huake Instrument Co., Ltd., and Chen Yunlong, Deputy General Manager, and Dong Jian, Chairman of Ubisoft Automation attended the ceremony. signing ceremony. The signing of the project started, indicating that China Tech has officially embarked on a new journey of smart manufacturing, with practical actions to help China's manufacturing transformation and upgrading.





According to the signing site of the Huake Instrument-YUBI Intelligent Factory Construction Project, the instrument manufacturing factory of Jiangsu Nanjing Times Automation System Co., Ltd. has become the first demonstration intelligent workshop in Jiangsu Province and Nanjing City. Chairman Dong Jian It is the main member of the working group of the "Intelligent Manufacturing Standardization and Verification Project" of the Ministry of Industry and Information Technology. It has chaired and participated in drafting a number of national standards and is one of the authoritative experts in the field of smart manufacturing in China. Before deciding to build a smart factory, the leaders of Huake Instrument Co., Ltd. and the relevant person in charge of Euplopia Automation Co., Ltd. had communicated several times. The president of Huake Instrument Co., Ltd. went to the excellent-factory smart factory to conduct on-site visits and inspections. With meticulous investigation and discussion, the two sides reached strategic cooperation.


Huakeyi and Beiyou Automation reached a strategic cooperation. For this major measure, Bian always said: "China is currently in a critical period of transformation and upgrading. Instrumentation and intelligentization and greenization are already an inevitable trend. As business leaders, we We should have such a forward-looking and decisive force.Now we have chosen to establish cooperation with Ubisoft and expressed our determination and confidence in the transformation and development of China Tech to smart manufacturing, which has played a certain role in the instrument and meter manufacturing industry. It is able to enhance our own manufacturing power and productivity, become a benchmarking company in the intelligent manufacturing of the instrumentation industry, and to a certain extent promote the whole industry to be intelligent, green, and service-oriented."


Huakeyi Intelligent Factory Construction Plan officially started under the background of the national "One Belt and One Road" and "Made in China 2025" strategy. Intelligent manufacturing has become a necessary way for the development of China's manufacturing industry, especially the precision instrumentation industry. As a leading company in the field of instruments and meters at home and abroad, China Tech has always been adhering to the company's vision of "building a global leader" and continuously increasing its investment in R&D and manufacturing. This time it is determined to be aggressive, take the initiative and take the lead. A milestone step in the process of smart factory construction in the instrumentation industry will also lay a solid foundation for the company to plan for the listing of the GEM and become an international pop line.


(Original Title: Huake Instrument Investment and Construction of Smart Factory to Seize Intelligent Manufacturing Highlands)

Goodsense forklift new generation electric counter balance forklift advantages:

-Biggest Electric Forklift supplied in China

-High-Strength Overhead Guard

-Famouse Shell Brand Hydraulic Oil

-ISO14001 Environmental Certification,All nuts use zinc clear.

-Korean KCC painting

-Wide view Mast

-Battery can be taken out easily(two way,From top and from side)

-LED lamp

-Curtis or Zapi AC controller

-Famous brand battery and charger

-Reasonable structure,better heat dissipation for controller

-Battery water automatic replenish for optional

-Powerful AC driving motor applied to reduce maintenance cost and increase the overall performance.
General

Model

FB80

FB100

FB120

Power Type

Electric

Electric

Electric

Load Capacity

kg

8000

10000

10000

Load centre

mm

600

600

600

Tyre

Tyre

Pneumatic Tyre

Pneumatic Tyre

Solid Tyre

Front Tyre

9.00-16-14PR

9.00-20-14PR

9.00-20

Rear Tyre

8.25-15-14PR

8.25-20-14PR

8.25-20

Overall Dimension

Lift Height

mm

3000

3000

3000

Fork Size

L×W×T

mm

1220×150×70

1220×175×85

1220×175×85

Mast Tilt Angle

F/R

.

6/10

6/10

6/10

Mast Lowered Height

mm

2600

2830

2830

Mast Extended Height(with backrest)

mm

4400

4260

4260

Length to face of fork(Without fork)

mm

3770

4412

4412

Overall Width

mm

2200

2250

2250

Overhead Guard Height

mm

2500

2640

2640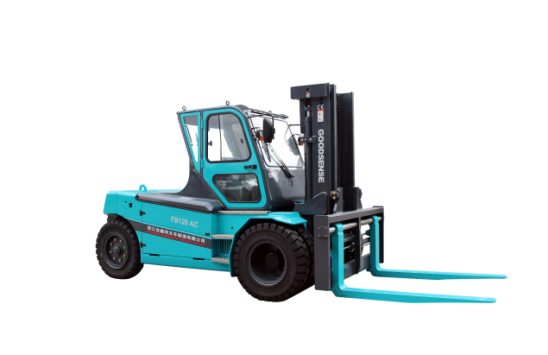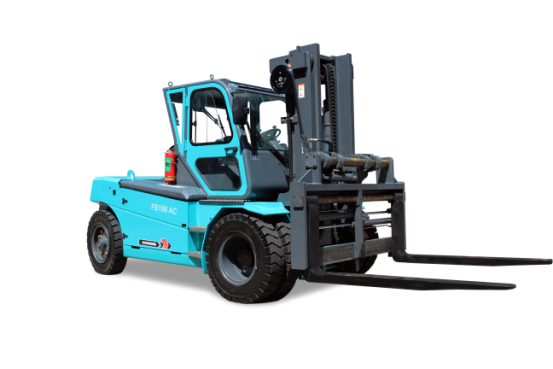 Application Area:

1.Warehouse

2.Port

3.Factory

4.Distribution Center

5.Logistics

If you have any other questions,please contact us directly.Our forklift are all with high quality,and you can choose any other engine to equip.It can be produced according to your idea.And we invite you to visit our factory.
8.0-12.0Ton Electric Forklift,12.0Ton Electric Forklift,8.0Ton Electric Forklift
ZHEJIANG GOODSENSE FORKLIFT CO.,LTD , https://www.dieselforklift.nl