Bosch, Delphi, Valeo, Magna, Continental Group, these well-known auto parts giants, in response to the boom of "smart cars", are quietly brewing a revolution.

On the 8th and 9th of June, the 2015 Global Automobile Forum, which was based on the "Great Changes", was held in Chongqing. The "relationship between auto parts and auto parts companies" once again became the focus of attention. Different from the past, the two sides began to explore new types of "synergies." New technologies such as "Internet", "car networking", and "smart car" have provided historical opportunities for the transformation of this relationship.

Several parts giants invariably demonstrated their technical reserves in terms of safety, environmental protection, and automatic driving, and declared that their technical strength has been "very powerful". Parts companies have proposed to provide complete solutions for car companies rather than the past single parts and components, to be car partners rather than a single supplier. Supporting them to do so is precisely what they have "a strong technical reserve", which is relatively rare before.

At the inaugural CES Asia, half a month ago, car companies including Volkswagen, Mercedes-Benz, and Ford also showcased their new technologies in high-profile fashion, from automatic parking to parking space sharing, wireless charging, and unmanned vehicles. Driving, a dazzling new technology made people witness a technological feast brought by car companies.

However, in fact, behind the smart cars and driverless technologies of each vehicle company, there are several component giants and Internet technology companies. This can not help but ask people who are leading the car's future technology. Is it an auto company or a parts and components company or an internet giant?

At present, there is not a single traditional car company that can develop new technologies alone. Instead, it has chosen to cooperate with parts and components or Internet technology companies. The parts and components companies, however, can seize this opportunity to get rid of the control of the main engine plant and have the option of cooperating with the OEM and the Internet technology companies.

Previously, as a supplier of automotive OEMs, the parts and components companies that had been in the upstream of the industry had long been subject to "mainstreaming" by the OEMs. However, the current domestic auto companies have entered a new normal state of declining growth rate. Parts companies are still optimistic about future growth. One of the reasons is that the new technology boom has brought more business opportunities for them.

Natural advantages


Kang Ruifan, president and CEO of Continental China, disclosed to reporters on June 9: "We will cooperate with companies such as IBM and Cisco in technologies such as automatic driving."

"Our first-tier suppliers of these OEMs will predict the development trend of the industry in advance. For example, in electrification, we have already started to invest a lot of time when there is no market demand. It can be said that we supply Businesses will generally look ahead and make early investments to better maintain the relationship with the manufacturers," said Kang Ruifan at the forum.

At the forum with the "great change" as the main tone, this view was recognized by representatives of many parts and components manufacturers who attended. A number of spokespersons mentioned that in the next 5-10 years, the automotive industry will evolve towards the trend of electrification, interconnection, and intelligence ("threeizations"). The current manifestation is the car networking and active and passive safety. Technology, automatic driving technology, etc.

However, these future technologies that affect the development of the industry seem to be more in the hands of component companies. As we all know, the fierce collision between automobiles and IT technology has only been hot in the past two or three years. Take Google's self-driving car with great concentration as an example, its debut in 2012. However, Google's technology is also the result of joint research and development with a local US component company that specializes in research and development in this area.

"In terms of active and passive safety, from an engineer's point of view, we need time to gradually achieve autonomous or automated driving. We attach more importance to the combustion system, energy reduction, and pure electric vehicles, etc. We are all prepared for environmental protection." Kang Ruifan said.

Benoze, president of Valeo Group China, another parts giant, said: "China's Geely Automobile [-0.25%] has listed us as a valuable promotional point in the new car promotion, which shows that suppliers have brought them Many Chinese customers also use Reor's brand for promotion and promotion."

Indeed, as it said, when Geely Automobile launched the new Emgrand and its B-class vehicle Borui, it had invited representatives from many suppliers including Bosch, Valeo, and Continental Group to help them to prove the "high end" of the product, and Faye Austrian provided parts for the headlight lighting part of the car.

Valeo's traditional strengths lie in lighting technology, but also engine cooling systems, clutches, etc. Currently, it focuses on comfort and driver assistance systems. Valeo highlights one of their cutting-edge driving assistance technologies this time: Intuitive driving technology. This technology targets the sensors that are currently connected to the car. Valeo has a standard set of sensor-related technologies that can integrate all cars into one solution using a combination of ultrasound, infrared detection, radar technology, and laser scanning. To support customers.

Yang Xiaoming, president of Delphi China, also said that in March of this year, Delphi had achieved auto-pilot testing across 15 US continents in the United States. The total length of the vehicle was more than 5,000 kilometers. In 99% of cases, the fully automated driving model was used. "This time An unprecedented attempt is another advancement for Delphi's pursuit of innovation." He mentioned that the products and technologies developed by Delphi's China R&D team have accumulated more than 300 patents, including smart parking assistance systems and vehicle partial guidance assistance systems, all of which are fully automated. In addition, it also includes a high-voltage connection system, a car multimedia control center, and so on.

In addition, in the Formula 1 field, Marelli's company is known for its Ferrari, Maserati, and other well-known racing teams that provide technologies such as wireless transmission and high-speed storage of video streams. The company's official said in an interview with the Economic Observer reporter that they plan to The technology accumulated in the racing field has been extended to the field of civilian vehicles.

Relationship Game


In the next 5 to 10 years, the relationship between OEMs and parts companies will usher in profound changes. "This is bound to happen." Li Xinqiang, assistant president and head of purchasing department of Changan Automobile [-0.56% Capital Research], told reporters.

Chang'an Automobile, as a leader in the domestic auto brands, has achieved today's industry status by continuously integrating global quality resources in the past few years. This is inseparable from the cooperation between the vast majority of domestic auto parts companies and international spare parts suppliers. Cooperation.

Over the past decade or so, the automotive industry has experienced a period of high-speed growth, and the entire automotive industry chain has been based on the high growth of auto manufacturers and is driven by speed and scale. "In the past, OEMs have been at the core, and suppliers' voices and appeals have not been valued. With the slowdown in the market and the intensification of competition, the contradiction between suppliers and OEMs has intensified. Suppliers complain that prices are low. The design changes are too frequent and the plans are inaccurate. The auto companies also criticized the suppliers for their difficulties in reducing costs, poor quality, and slow response. These problems are not limited to Chinese brands, but also to joint venture brands, said Li Xinqiang.

The reason for this, he believes, is that auto companies use the inertia of the supplier as part of Party B's inertial thinking. Auto companies keep suppliers in one-way, imperative management methods, lacking communication, understanding and trust with suppliers. It will reduce the synergies of the supply chain and weaken the market competitive advantage of the product. Therefore, to change this management model, we must change from supplier management to supplier relationship management, and from the management of supplier one-way commands to bi-directional collaborative relationship management.

In fact, with the slowdown in the growth of the automotive industry, OEMs are beginning to shift from the pursuit of speed and scale to the pursuit of technology and quality. As mentioned earlier, parts and components companies have already laid out their research and development technologies in advance, and at the same time, in order to win in the competition, they are pursuing technology and quality as targets. "Synergistic relations" is a key word frequently mentioned by the component giants.

"Twenty to 30 years ago, in Europe, America and Japan, there have been changes from high-speed growth to low-speed growth. This is very normal. Now everyone has a good opportunity. The OEM will do a great job, too. The integration and collaboration of OEMs can be achieved in many countries. How quickly we can use these resources is a problem, and the collaborative relationship with the host vendors is very important, said Bino.

According to Valeo's view, 80% of the world's vehicle value added actually comes from suppliers of parts and components. Valeo positions itself as a supplier of system suppliers and solutions to automotive companies and partners with automakers. In the future, we hope to build a platform with manufacturers to produce different cars. We hope to have fewer and fewer platforms as suppliers, so that we can provide better solutions.

Unlike the micro-growth expectation of auto companies, these giants of parts and components are generally optimistic about the future with high growth expectations. Companies such as Bosch, Valeo, Delphi, Continental, etc., said that the parts and components companies can achieve double-digit growth in the future, and the source of growth [2.03% of funds] is still accelerating for parts and components companies. With localization, this increase is even more pronounced when the demand for new technologies from vehicle manufacturers increases.

On June 9, Continental Group and Huayu Automotive [8.05% Capital Research Report] announced the establishment of Huayu Continental Automotive Braking System (Chongqing) Co., Ltd. According to reports, the Continental Group's chassis and safety business unit has an advanced driver assistance system business unit that specializes in radar, stereo cameras, sensors, and other products to further advance the auto-pilot process, such as strengthening the driver/vehicle and the outside world. The connection of the environment. The Continental Group also has a tire division. The tires are the only parts of the vehicle that come in contact with the ground. There are many products within the Continental Group's many businesses to help us automate driving.

In the parts and components industry chain, it is divided into several levels of supplier systems, such as primary, secondary, and tertiary levels. With the relationship between zeros, it is especially between suppliers and OEMs. The cooperation, secondary and tertiary suppliers will also grow.

"The key to this relationship is the customer. For example, the first-tier supplier is to the OEM, and the OEM is to provide value to the consumer. As long as you provide it to the customer, you can achieve a win-win situation at this point. For instance, recently we mentioned Internet, autopilot. And so on, these are the requirements of the market customers for OEMs, and they are also requirements for our Tier 1 suppliers and Tier 2 and Tier 3 suppliers. Then can we jointly develop together and develop this product while ensuring competition? Force, this brings more business opportunities." Yang Xiaoming said.

It can be seen from this that parts and components companies are moving from a single component supplier to a system of diversified suppliers, and the relationship with vehicle companies has evolved from a single supplier relationship to a collaborative relationship. In the coming years, this new type of relationship will become more and more apparent.

Station team freedom


If the arrival of new technologies has opened up a new hole in the traditional car supply chain for the relationship between parts and components companies and OEMs, there will be an additional component in the new technology sector, and this will be a component. Business really spring.

As we all know, the current development of smart cars is still in its infancy, and all parties hold different views. However, no one denies the trend in the future. What is different is the time when smart cars can come.

In the area of ​​smart cars, automakers are not the only way that component companies can cooperate. In recent years, many "new players" have continuously joined the production chain of the automobile industry, represented by Google Driverless, Apple Smart Car, and LeTV Supercar. Internet construction is creating a wave of fashion. In China, the main way for manufacturers to develop car networking to build smart cars is to cooperate with Internet companies, such as SAIC and Alibaba, Changan, Dongfeng and Huawei, BAIC and LeTV.

It is also the same as building a car or developing Internet technology. Parts companies can cooperate with Internet companies by virtue of their reserved technologies. According to Yang Xiaoming, in January of this year, Delphi teamed up with Baidu, the world's largest Chinese Internet search engine, to introduce the Baidu-based car entertainment service system to the Chinese market. "The traditional automotive industry is facing numerous challenges and variables. Only innovation can keep up with the pace of market development. Delphi is refocusing its development direction in China from a new strategic height. It is very clear that our development focus will not be limited. Innovation in products also includes innovation in business models and innovation in corporate culture," he said.

Coincidentally, Kang Ruifan told reporters that the Continental Group has already reached a cooperation with IBM to form a coalition on jointly developing self-driving car systems. In the future, it may also cooperate with Cisco. As to why he does not cooperate with vehicle companies, he believes that these technology companies have the advantage that other companies cannot replace software processing and big data. The implication is that in the face of new technologies, Internet companies have taken the lead and selected the "Internet camp" to be stationed. As a result, parts and components companies have also walked in front of vehicle companies to some extent.

Even if it is not impossible to build parts and components, such as Foxconn, Wanxiang and other automotive or non-auto parts companies, all through a variety of ways to achieve the dream of building a car, Wanxiang has taken a step. This is enough to show that the Internet has brought about profound changes in the automotive industry. The "little younger brother" or technology partner behind the vehicle companies today may one day become a competitor in the market.

The

Africa Type Glazed Tile Roll Forming Machine

Africa Type Glazed Tile Roll Forming Machine

This type of glazed tile sheet is a special model for africa market. It is very popular in africa, and get great fame on the roof model part. Roll forming machine can produce various of steel roof and wall panel, it is a new building materials , the products are widely used as the roof and wall of factory, warehouse, garage, gymnasium, exhibition center, cinema, theatre, etc. It has many advantages, such as easy installation, short building period , beauty, light weight but high strength. we also have metal roofing machines for sale.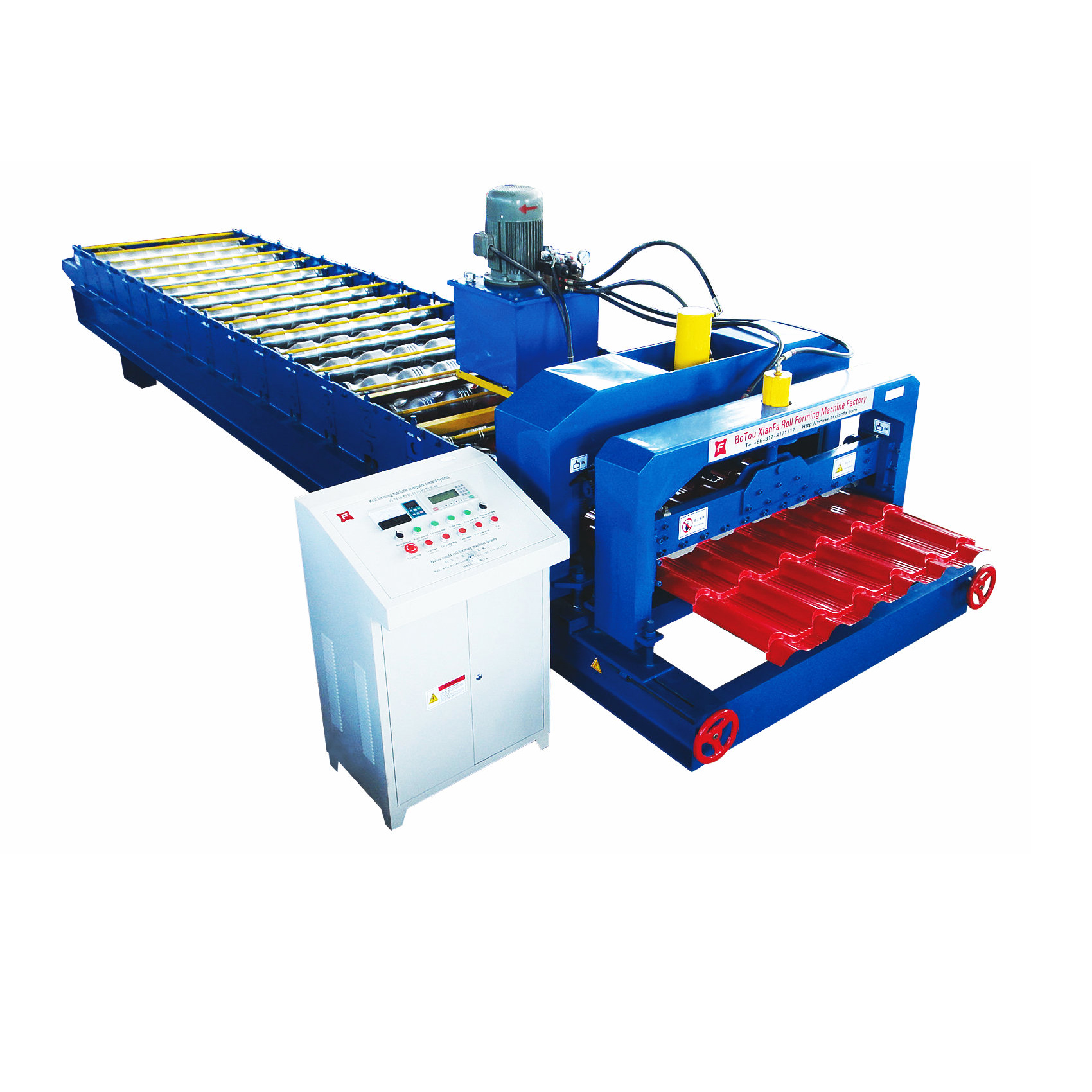 Tile Roll Forming Machine, Africa Type Glazed Tile Roll Forming Machine, Africa Type Tile Forming Machine

Botou Xianfa Roll Forming Machine Factory , https://www.rollformingmachinecn.com